Renting The BRT (in France)
You need to regenerate several batteries on a curative or preventive treatment basis?
We offer you the possibilty to rent the BRT from 2 weeks to several months upon your needs with attractive prices.
You can also rent the BDX discharger analyzer. Batterie plus has a parc of five regenerators and 2 dischargers dedicated to the short term lease service.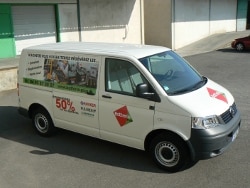 Short term lease
• Shipping from and back to our base • Connecting the regenerator in your facilities under your supervision • One technician at your disposal for the connection and regeneration follow up over two days.
MANDATORY CONNECTION EQUIPMENT
• 380 / 400 Volt Three phases + ground • 40 Amps minimum D curve • Dry and clean room • Standard air vaccumed room
GET THE BATTERY READY
• Lead acid or gel traction battery • From 6 V to 160 V • No technical damages (short circuit, cracked components or rack...) • Discharged battery
Liability / Management
• Installation and connection of our regenerator will be done under the clients control and liability with one of his technician with the relevant expertise ; • Our technician may refuse to conduct a regeneration demo if the Quality, Safety and Environnemt is not complying with the BRT Maxi operating standards.
Long Term Lease (sur 36, 48 ou 60 months...) with purchase option at term.
Batterie Plus and his banking partners can provide a long term lease contract to his clients. A taylor made lease offer shall be provided after case study of your needs and financial requirements / capabilties.
Contact us