Batterie Plus Technology winner of national contest of innovation 2016 TUNISIA!
it's one more time a prestigious price and an honor awarded to Batterie Plus through its official distributor in Tunisia.
Indeed BRS Technology has been awarded by the innovation prize in category "business" in the second edition of the national competition organized by the Promotion Agency of Industry and Innovation, APII, under the aegis of the Ministry of Industry.
Designed and built under the will of the Tunisian government and all economic actors and stakeholders to promote and spread the culture of innovation as a vehicle for economic development, the competition was organized in partnership with the Ministry Higher Education and Scientific Research and employer organizations.
It's among hundreds of candidates applicant that the technology Batterie Plus was awarded.
The Tunisian market of regeneration is composed of many traction batteries but also stationary batteries.
Large national operators are very interested and the electricity and gas network operators.
BRS a huge success in its service offering represents an economical and ecological alternative for the future while securing local jobs and promoting circular economy and proximity!
Congratulations to the team BRS technology and particularly its leader Houssem JABBARI working hard in this market for over 3 years.
Voir la présentation de la société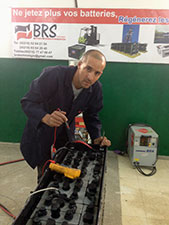 [/caption]